Voice Mail & FAX
(360) 252-6047
Postal address
Griffin Neighborhood Association
PMB Box 501
3403 Steamboat Island Rd NW
Olympia, WA 98502-4876
Follow us on Twitter @GriffinNeighbor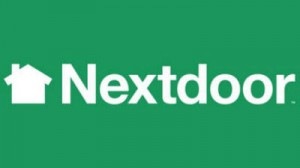 Calendar Events
"An Evening with Community Pediatricians" is Latest in a Series to Strengthen Our Community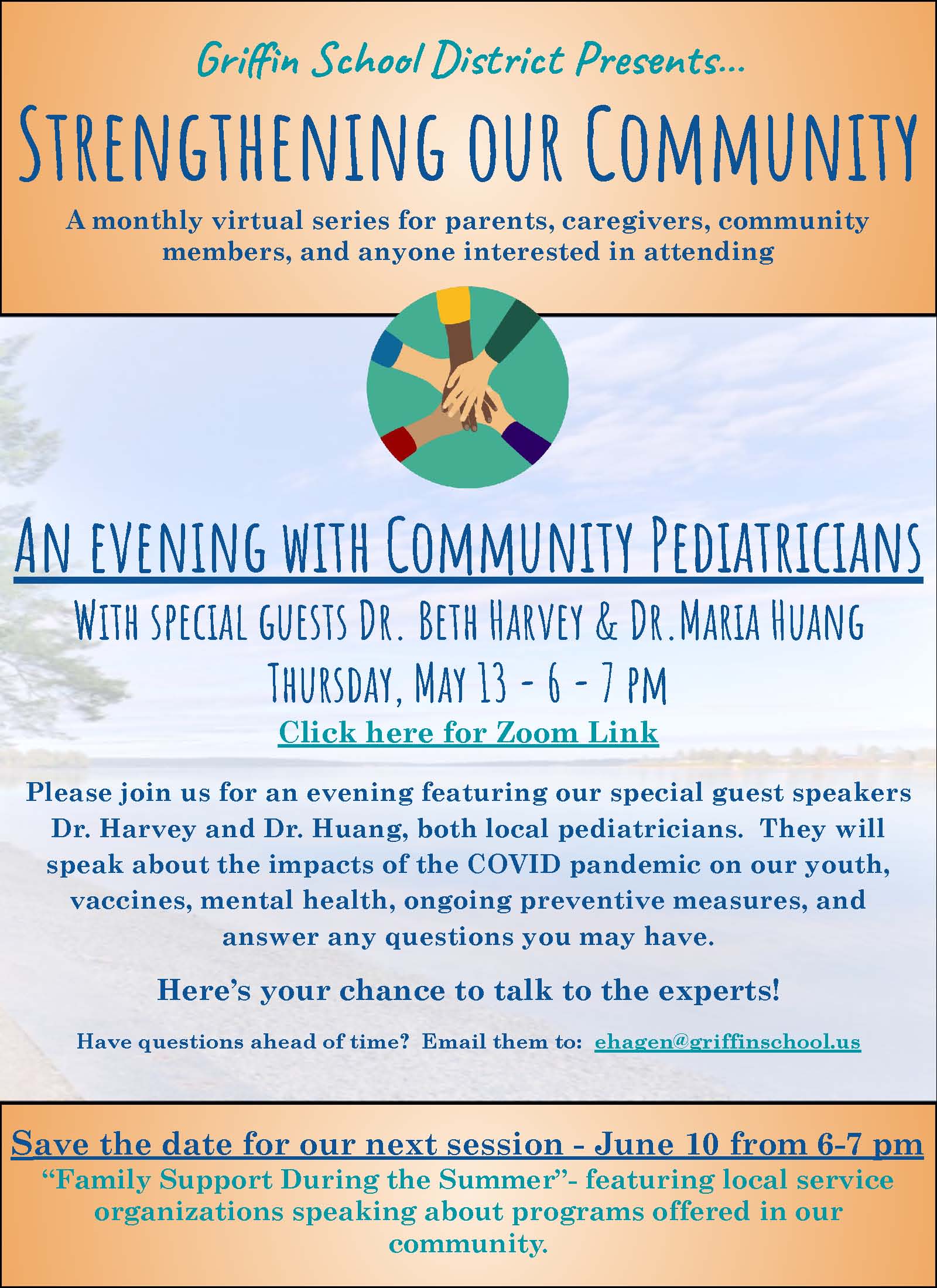 The Griffin School District Presents "Strengthening Our Community," the third in a monthly virtual series for parents, caregivers, community members, and anyone interested in attending.
This month's topic is "An evening with Community Pediatricians." Special guests are Dr. Beth Harvey and Dr.Maria Huang. The event, which takes place on Zoom, is Thursday, May 13, from 6 to 7 PM.
The Zoom meeting link is https://us02web.zoom.us/j/83416513461?pwd=V2VLbnNUbTdBZ0VrbGkyWHVtUWxSZz09
Please join us for an evening featuring our special guest speakers Dr. Harvey and Dr. Huang, both local pediatricians. They will speak about the impacts of the COVID pandemic on our youth, vaccines, mental health, ongoing preventive measures, and answer any questions you may have.
Here's your chance to talk to the experts!
If you have questions for this event's guests, you are invited to email them to ehagen@griffinschool.us
Save the date for next month's event in the series, "Family Support During the Summer." That event will be held on June 10th and will feature local service organizations speaking about programs offered in our community.
We thank the Griffin School District for making this series available to us.
May's Plant Sale Events for Animal Rescue Announced

Local resident Diane Jacob, of The Cameron Gardens, has announced this year's schedule of plant sale events to benefit animal rescue groups in Thurston and Mason counties. The first is this Saturday, May 1st.
"Many gardeners and volunteers," says Jacob, "contribute time and plants from their own gardens to help our furry friends."
"Each sale will have different plants, great prices, and probably something you, the butterflies, and hummingbirds would love in your yard."
Masks will be required, and the hosts ask that you practice social distancing at all times during the plant sales.
All plant sales will be held, rain or shine, and 100% of proceeds benefit homeless pets.
Saturday, May 1
9 AM to 2 PM
Feline Friends Plant Sale
Griffin School
This sale will feature many perennials at very good prices. The Feline Friends Cat House will be open for adoptions by appointment only during Covid. Call them at (360) 866-9300. Check out their website at www.Feline-Friends.net.
Saturday, May 8
9 AM to 3 PM
Plant and Garden Things Sale
Our Community Credit Union parking lot, 2948 Olympic Hwy N, Shelton
The very popular Plant and Garden Things sale for Adopt-A-Pet will be in Shelton on May 8th – just in time for Mother's Day. There will be some hanging baskets as well as many greenhouse-raised annuals.
Saturday, May 29
9 AM to 2 PM
S.N.A.P. (Spay & Neuter All Pets) Plant Sale
Thurston Co. Animal Services, 3120 Martin Way, Olympia
S.N.A.P. (Spay & Neuter All Pets) will hold its annual Plant Sale at the Thurston County Animal Services on Martin Way on May 29th. There will be many plant choices to check out here including donations from Briggs Nursery as well as more local gardeners.
There will be no close-out plant and garage sale for Feline Friends this year.
Thanks to all the volunteers who came to help and donate lovely plants from their gardens.
Ellen King Rice Interviewed for First Episode of "Steamboat Spotlight"
"Steamboat Spotlight" is a new video series undertaken by members of the Griffin Neighborhood Association. In this series, we'll host online interviews with different folks in our community.
For our first interview, we spoke with Ellen King Rice. Rice is a wildlife biologist, award-winning author, and musician.
During her interview, Rice answered the question, "Why mushrooming?" and describes some of the many joys of searching out mushrooms and related life in our region. In our interview, Rice also demonstrated the mountain dulcimer.
We hope you'll enjoy this video interview and we look forward to bringing you another soon!
Ellen King Rice's website is www.ellenkingrice.com and it's well worth exploring.
Steamboat Alliance Announces Schedule of 2021 Litter Cleanup Events

Local residents Rob Helms and Laura, and Warren Westrup are part of a group known as the "Steamboat Alliance." The Alliance has recently announced a series of roadside litter cleanup events for 2021. You may have seen this group picking up litter along Steamboat Island Road and elsewhere.
The events are fun, providing a nice opportunity to enjoy the outdoors and do some good at the same time. All litter pickup equipment is provided; you should dress according to the weather, bring some gloves, sturdy footwear, something to drink, and a snack.
The events typically begin at 9 AM and end at 12 noon, and you're welcome to leave any time before noon if you need to.
With some exceptions, the group generally meets up at 9 AM in the gravel lot across Steamboat Island Road from the Steamboat Tennis & Athletic Club. They then carpool to the cleanup location, if necessary.
All dates are subject to change, but here are the planned dates as of this time:
Saturday, April 10th
Sunday, April 25 (call Laura Westrup at (360) 915-6662 for the meetup location)
Saturday, May 8th
Sunday, May 23 (call Laura Westrup at (360) 915-6662 for the meetup location)
Saturday, June 12th
Sunday, June 27 (call Laura Westrup at (360) 915-6662 for the meetup location)
Saturday, August 7th
Saturday, October 9th
Saturday, November 13th
Saturday, December 11th
On April 10th, you will have a choice of two cleanup locations.
The best way to keep up with the Alliance's plans is to join their group on Nextdoor. Click on this link. Or go to Nextdoor's Groups page and search for "Steamboat Alliance."
Annual Meeting Reviews 2020, Elects New Board Members, Discusses COVID Vaccines
This year's Annual Community Meeting began with two videos. One highlighted the activities of the Griffin Neighborhood Association and its partners, in 2020 and the other is entitled "Coping with COVID."
A required bit of business at each Annual Meeting is the election of Board members in positions whose terms of office have expired. This year we are grateful that several board members have allowed themselves to be nominated for a new term. Those were joined by three new Board members.
Returning Board members are:
Katherine Ball
Michael Ball
Paul Frindt
Michelle O'Dell
Mike Reavis
Joan Thomas
New Board members are:
Jan Robbins
Rick Robbins
Biene Wood
Many thanks to departing Board members Jan Hopwood and Dave Shuett-Hames. Your service to our community is greatly appreciated.
For this year's meeting, the keynote speaker was Danny Veenhouwer, PharmD, MBA, Senior Manager Pharmacy Services at Providence St. Peter Hospital. Mr. Veenhouwer presented information and answered our questions about COVID vaccines.
We were privileged Mr. Veenhouwer was able to take time out of his evening to address the community on this very timely topic.
2020 was the Griffin Neighborhood Association's thirtieth year! We are grateful for the support from all our neighbors and we're looking forward to 2021.