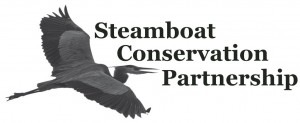 The Steamboat Conservation Partnership recently released its latest annual report. As many of you know, the SCP's fiscal year begins July 1st of each year. Among the highlights are an eighth successful year of operation, continued planning, and collaboration with the Capitol Land Trust to identify important parcels in our area, for preservation. Here are excerpts from the CLT's annual report:
Donations: During our 2016 – 2017 fiscal year (July 1, 2016 through June 30, 2017), we raised $20,727 for Capitol Land Trust, earmarked to finance part of their activities within the Steamboat Peninsula Region where most of us live and/or own property. Donations during the month of June were enhanced by three of our donors matching, dollar for dollar, any donations not exceeding a combined total of $1,500. This allowed us to exceed our annual goal of $15,000 in collections by more than 33.3%. This matching program was a first for the Steamboat Conservation Partnership.

Over the eight years of our existence, we have raised $134,129 for Capitol Land Trust, which is $14,129 above our goal of $120,000 for that eight-year period. We should all be very proud of generating these funds to ensure that many of our natural areas will be available to our children, grandchildren, and beyond.

Activities: This spring many of us in the Steamboat Conservation Partnership, along with friends and neighbors, began restoring a remnant portion of Schneider Prairie. The remnant is located on the north side of the Highway 101 overpass, where the majestic oak tree stands on the SW corner of Steamboat Island Road and Sexton Road. Many of us pass this site on our daily commutes.

We removed blackberries, scotch broom, and invasive non-native trees. Later, 4th Grade classes from the Griffin School worked the site to prepare for fall plantings of native prairie wildflowers and grasses. The project is led by Stephanie Bishop, a parent of Griffin School kids who works for the Thurston Conservation District. Long-time Steamboat Conservation Partnership participants Jack Sisco and Joanne Schuett-Hames helped organize the efforts.

This special project builds on past efforts of the Griffin Neighborhood Association. Years ago, members of the Griffin Neighborhood Association planted Gerry oak trees and other native vegetation in this and other areas after the freeway overpass was built on Steamboat Island Road. At that time Griffin School teachers initiated a long-term monitoring project on the nearby Schneider Creek. This newly restored area will be will now be used as a second outdoor educational site where students learn about our local prairie, and the traditional uses of prairie plants by Native Americans.