"An Evening with Community Pediatricians" is Latest in a Series to Strengthen Our Community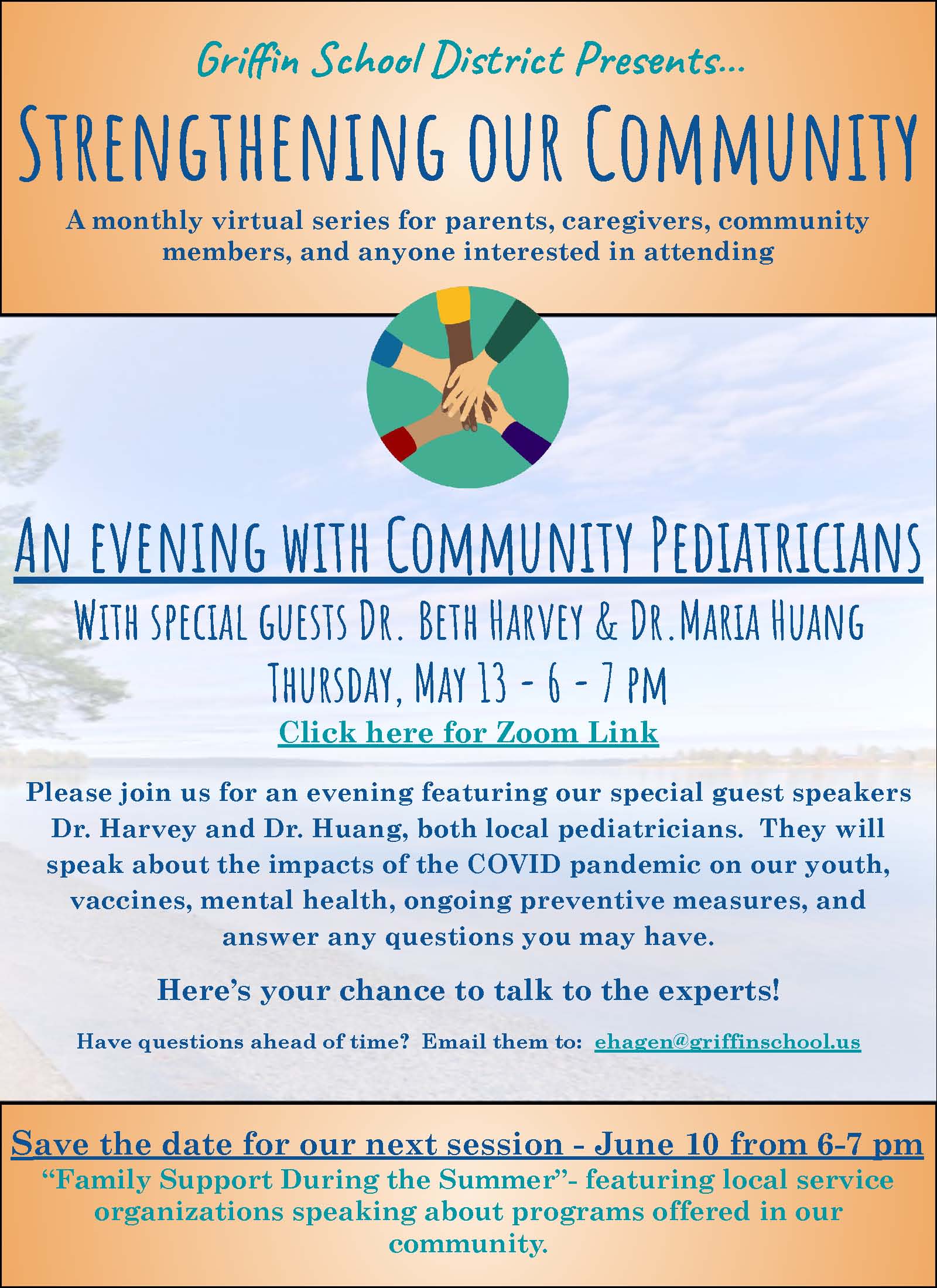 The Griffin School District Presents "Strengthening Our Community," the third in a monthly virtual series for parents, caregivers, community members, and anyone interested in attending.
This month's topic is "An evening with Community Pediatricians." Special guests are Dr. Beth Harvey and Dr.Maria Huang. The event, which takes place on Zoom, is Thursday, May 13, from 6 to 7 PM.
The Zoom meeting link is https://us02web.zoom.us/j/83416513461?pwd=V2VLbnNUbTdBZ0VrbGkyWHVtUWxSZz09
Please join us for an evening featuring our special guest speakers Dr. Harvey and Dr. Huang, both local pediatricians. They will speak about the impacts of the COVID pandemic on our youth, vaccines, mental health, ongoing preventive measures, and answer any questions you may have.
Here's your chance to talk to the experts!
If you have questions for this event's guests, you are invited to email them to ehagen@griffinschool.us
Save the date for next month's event in the series, "Family Support During the Summer." That event will be held on June 10th and will feature local service organizations speaking about programs offered in our community.
We thank the Griffin School District for making this series available to us.
May's Plant Sale Events for Animal Rescue Announced

Local resident Diane Jacob, of The Cameron Gardens, has announced this year's schedule of plant sale events to benefit animal rescue groups in Thurston and Mason counties. The first is this Saturday, May 1st.
"Many gardeners and volunteers," says Jacob, "contribute time and plants from their own gardens to help our furry friends."
"Each sale will have different plants, great prices, and probably something you, the butterflies, and hummingbirds would love in your yard."
Masks will be required, and the hosts ask that you practice social distancing at all times during the plant sales.
All plant sales will be held, rain or shine, and 100% of proceeds benefit homeless pets.
Saturday, May 1
9 AM to 2 PM
Feline Friends Plant Sale
Griffin School
This sale will feature many perennials at very good prices. The Feline Friends Cat House will be open for adoptions by appointment only during Covid. Call them at (360) 866-9300. Check out their website at www.Feline-Friends.net.
Saturday, May 8
9 AM to 3 PM
Plant and Garden Things Sale
Our Community Credit Union parking lot, 2948 Olympic Hwy N, Shelton
The very popular Plant and Garden Things sale for Adopt-A-Pet will be in Shelton on May 8th – just in time for Mother's Day. There will be some hanging baskets as well as many greenhouse-raised annuals.
Saturday, May 29
9 AM to 2 PM
S.N.A.P. (Spay & Neuter All Pets) Plant Sale
Thurston Co. Animal Services, 3120 Martin Way, Olympia
S.N.A.P. (Spay & Neuter All Pets) will hold its annual Plant Sale at the Thurston County Animal Services on Martin Way on May 29th. There will be many plant choices to check out here including donations from Briggs Nursery as well as more local gardeners.
There will be no close-out plant and garage sale for Feline Friends this year.
Thanks to all the volunteers who came to help and donate lovely plants from their gardens.
Ellen King Rice Interviewed for First Episode of "Steamboat Spotlight"
"Steamboat Spotlight" is a new video series undertaken by members of the Griffin Neighborhood Association. In this series, we'll host online interviews with different folks in our community.
For our first interview, we spoke with Ellen King Rice. Rice is a wildlife biologist, award-winning author, and musician.
During her interview, Rice answered the question, "Why mushrooming?" and describes some of the many joys of searching out mushrooms and related life in our region. In our interview, Rice also demonstrated the mountain dulcimer.
We hope you'll enjoy this video interview and we look forward to bringing you another soon!
Ellen King Rice's website is www.ellenkingrice.com and it's well worth exploring.
Click here to read the entire blog of the Griffin Neighborhood Association or to post a comment on any individual story.
The opinions expressed on the GriffinNeighbors blog, on Twitter, Instagram, and on Facebook are in no way intended to represent the opinions of the Griffin Neighborhood Association, it's members or Board.
Looking for the RSS feed for our blog? We love RSS! Here's a link to our feed. Want to learn more about Rich Site Summary or Really Simple Syndication? Here's a link to get you started.